'Our Suffolk Punch Pearl'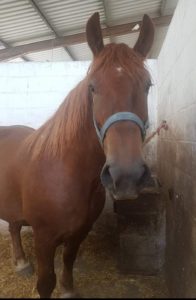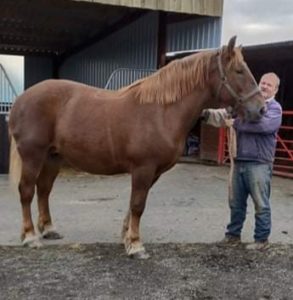 Stats
Name: Donhead Hall Dixie Pearl
Born: 04/06/2015
Sex: Mare
Sire: Whatton Freddie
Dam: Donhead Hall Virginia
Dixie's Story
We were very excited to welcome our first ever Suffolk Punch to our Welsh farm in late 2021!
Dixie ironically didn't come to us from the east of England, but from Dorset! But she is one of only approx. 300 breeding Suffolk Punch mares in existence and is therefore one of what is regarded as a 'critical' breed of animal on the UK Rare Breeds Survival Trust watch list.
Dixie has settled in well on our farm. She has a very calm and pleasant temperament and having previously been broken in to drive, has already shown her ability, by dong some light shaft work on our farm!
Having already foaled previously, wouldn't it be amazing if Dixie were to deliver a Suffolk foal here in west Wales?! Time will tell, but for now, we're delighted that this young lady has settled in so well with our other 'Gentle Giants' here in Eglwyswrw!