DYFED SHIRE HORSE FARM, PEMBROKESHIRE, WALES
COMING HOME / DOD ADRE
It is with the greatest possible sadness that we were informed by the Army that our beloved Celt passed away in the early hours of the 3rd August 2021.
Born on our farm in 2005, we were looking forward to welcoming him home this summer after what has been a life-long service for his country. That home-coming has been cancelled and all who purchased tickets via Eventbrite will be refunded in full.
Our Celt will return on MONDAY 25TH OCTOBER as we lay him to rest in the Eglwyswrw soil on which he was born. Usual entry fee on the day but we require advance booking and contact details for those who wish to attend as we will have a cap on the numbers attending on the day.
We thank the Army for giving our boy such a marvellous life and for offering him the opportunity to serve his country for 13 years. We are so so proud of everything that he achieved in his astonishing life and know that Ed and Willa Rose will follow in his hallowed hoof steps in the years to come.
We are devastated as a family as we know our friends and followers will be.
But when he does return to the farm, we and the Army will give Major Mercury the final send off that he so fittingly deserves.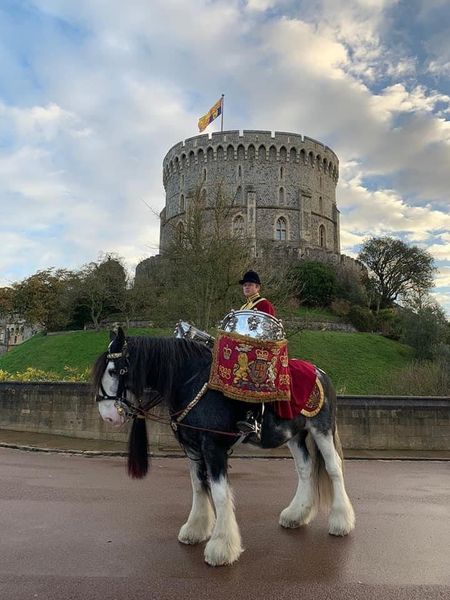 2021 SEASON OPENING NEWS
Our campsite re-opened on Monday 29th March for self-contained holiday-makers travelling from within Wales only. We began welcoming guests from England from the 12th April. Our shared facilities re-opened as per Welsh Government guidance, on Monday 17th May.
Our farm attraction re-opened for the 2021 season on Thursday 29th April – please check our opening times here.
We would like to thank all of our supporters and visitors for your your continued support during these most challenging of times. The Lewis family arrived at Carnhuan in 1849 and it will take more than Covid-19 to knock us off balance.
Croeso, Welcome, Willkommen, Bienvenue!
Wales' only dedicated Shire Horse Farm visitor attraction! Based in Pembrokeshire's Coastal National Park!
Visit Dyfed Shires and meet our gentle giants on a traditional Welsh working farm as seen on TV's 'Escape to the Country', 'Farmers Country Showdown' & 'Ffermio' to name a few.
At Dyfed Shires we really want all of our guests to enjoy their visit.
To enable this to happen as safely as possible, please visit our 'Keeping Safe' page for more information.