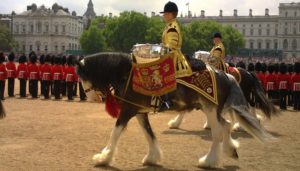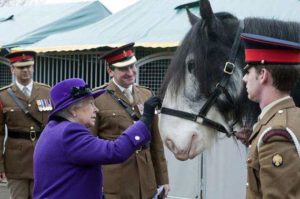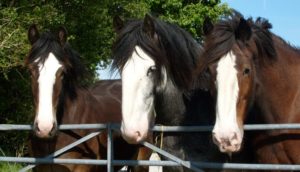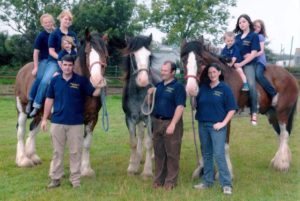 Stats
Name: Dyfed Grey Celt
Born: 20/06/2005
Sex: Gelding
Height: 17.2hh
Sire: Springbank Storm
Dam: Dyfed Countess
Celt's Story
Born on the 20th June 2005, Dyfed Grey Celt was the first foal born on the farm in 11 years. Little did we know what was to follow!
He was a surprise to us even back then. He was premature and was Grey – despite his Dam Dyfed Countess and Sire Springbank Storm both being black!
Shown in hand from a young age, Celt had a quiet temperament which would work in his favour when the Household Cavalry advertised for a new Drum Horse in 2008. That October aged just 3, he began a new life in London as a trainee Drum Horse!
Life in the 'Big Smoke'
Celt debuted for the Queen on a State Visit for the Emir of Qatar in October 2010 and made his mark at his first Trooping of the Colour in June 2011.
Officially named by the Queen as Mercury, the 'Messenger of the Gods', he was given the rank of Major – the highest given to any animal in the Army!
In over 10 years in the Household Cavalry, Major Mercury became the leading Drum Horse and was the 'big brother' to all of those new trainee horses…including our Ed, in the years that followed.
Adref – Back Home
Celt sadly passed away in August 2021 and returned to the farm of his birth in October for an emotional home-coming and burial alongside his mother Dyfed Countess, in the company of over 100 friends who came to witness a unique equine farewell for a horse without compare.
We will continue to honour his memory and his incredible life of service and we welcome those who wish to come and visit his birth and final resting place in the shadow of the Preseli Hills.