Meet Our Donkeys!
We may major in Shire Horses, but ever since we first opened in 1992, we have always had donkeys…and they're multiplying!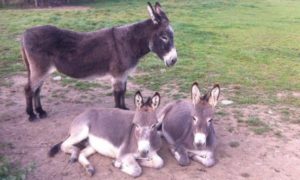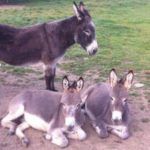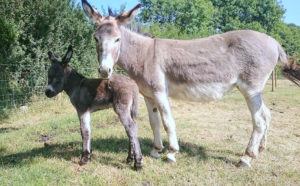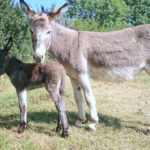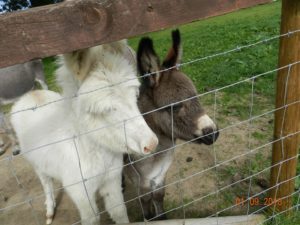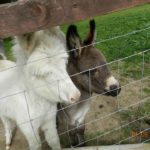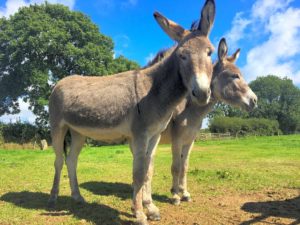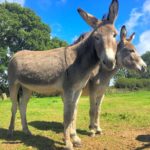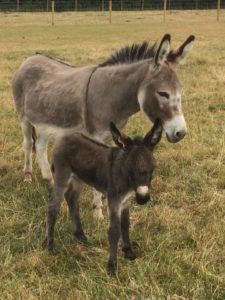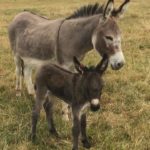 The Originals
From our 'original' Jack who came to the farm in 1992 as a young man, to 'Sugar & Spice', they have always proved popular with our visitors.
In 2014, Mai and Bella joined us as young 2 and 1 year old sisters to keep Jack and Spice company in their latter years and whilst the boys moved towards retirement, the girls quickly became stars of the show at 'Donkey Grooming' time!
Our 2018 Babies!
In 2018, both foaled for the first time to give us or first EVER baby donkeys on the farm!
Mai delivered gorgeous Gwen on the 4th July and exactly two weeks later, Bella delivered cute Enya on the 18th July. Sharing the same father, Cardigan based Jasper, both are half-siblings and half-cousins to each other!
Our 2020 Babies!
In 2020, it was Bella's turn to foal first, delivering little Eli on the 11th June – named in memory of our late Aunt Elinor Lewis who shared his birthday. Eli is a full sibling to Enya!
Mai then delivered to us our first ever Skewbald a week later on the 18th June! Sharing his birthday with world famous rugby referee Nigel Owens, we named him Owen to match him up with his full sibling sister Gwen!
Eli and Owen spent the 2021 season with old boy 'Spice' who was glad of the company after our original Jack passed away in peaceful retirement in January 2021 in his early 30s. It was lovely to see Spice so energetic, trying to keep the young whipper-snappers in check!
Now in his late 20s, Spice passed away peacefully in November 2021 after that one final summer back with the public on the farm. He and Jack will be greatly missed, but their legacy lives on with the young ones now taking centre stage!
In March 2022, Eli & Owen left us together for a nearby new home just across the Preselis at Mynachlog-Ddu. We look forward to hearing news of their new lives together just across the Hills!
Ianog Prefix
Our Eglwyswrw born donkeys have been registered with the Donkey Breed Society with the 'Ianog' prefix after the name of our nearby family farm Mirianog – it is the prefix that our late patriarch J.R. Lewis used for his registered mountain ponies in the 1960s and 1970s. The prefix has been dormant for over 40 years but now returns to use with our donkeys!